Smile test approved. Frames shouldn't rest on your cheeks when you smile big.
Shake your head. Frames should sit securely on your nose bridge.
Plant-based acetate made from cotton and wood pulp.
Fitted with premium, scratch-resistant lenses offering 100% UVA/UVB protection.
Journey of a frame takes over 5 months from start to finish.
Working with over 40 skilled artisans that mold, cut, and assemble each frame to perfection.
Customer Reviews
06 Jul 2020
Schae
United States
Perfect Fit!
Wow, where has Covry been all my life?? I am so impressed that these fit right out of the box! No adjustments or tweaking necessary which is a first given my low nose bridge. Lightweight, secure, comfortable, high quality and stylish. I am definitely ordering more!
30 Jun 2020
jasmine k.
United States
beautiful and comfortable
the glasses are great. they frame my face perfectly and add just the perfect amount of feminine flair. most importantly, they are angled properly so that the glasses don't touch my cheeks, even when i smile. after trying on TWO sets of at-home try-ons, i found these frames to be the best suited for me because of my non-existent nose bridge, wide face, and flatter brow/eye socket/cheek appearance. even though some of the other frames were more my style initially, these frames didn't pop out too far away from my face (due to the necessary angling to not touch the cheeks), so they were the least awkward looking. overall, these frames are super cute, and with all the right details, they look expensive and classy, too. thanks!
This is my fourth Covry product, and I am in love!!! I get so many compliments on my glasses, and the try on program was amazing. I was able to try on different types of styles to find the perfect one for me. The process was quick and easy, and the glasses are very high quality! They stay on my nose and don't hit my cheeks when I smile. I love them so much!! I tell everyone about Covry and how much I love the products!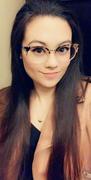 Great glasses, quick delivery and quick customer service!
Tears of joy! I have never owned a pair of glasses that fit. They touched my cheeks and the arms were too long. These feel great and the ear pieces aren't so long that they extend past my ears. The curve is in just the right place. I love the fun color and the rose gold accents are nicely subtle, not too shiny/bright. They're well made and the lenses are good quality. I have another pair from a popular online glasses retailer. The lenses in those have some slight visual distortion but these do not. Ordering was super easy and customer service answered any questions I had. Love these glasses and this company!