Smile test approved. Frames shouldn't rest on your cheeks when you smile big.
Shake your head. Frames should sit securely on your nose bridge.
Plant-based acetate made from cotton and wood pulp.
Fitted with premium, scratch-resistant lenses offering 100% UVA/UVB protection.
Journey of a frame takes over 5 months from start to finish.
Working with over 40 skilled artisans that mold, cut, and assemble each frame to perfection.
Customer Reviews
04 Jul 2020
Catherine S.
United States
Customer service was amazing!
They were super quick to respond to my questions about a heavier prescription. Apparently, they offer a thinner lens that's not listed on their site for those of us who need it. What a great service! I also wanted a very light frame and they were helpful in suggesting styles that fit the bill. I tried out the 5 styles through the home try on and found one I really liked. They arrived pretty quick and I love them so far. Overall, a seamless and professional experience.
03 Jul 2020
Maria P.
Denmark
Great fit and excellent service
I just received my glasses today! The fit is perfect (my first pair ever to not rest on my cheeks when I smile) and the quality is good. I have also been very happy with the customer service and wish we had something like Covry in Europe!!
I wanted to wear a new pair of glasses that fit my nose type. I found this website by chance and found glasses that were made for Asian faces! I absolutely love these glasses! I didn't have those pinch marks between my eyes for once! I definitely recommend this style and glasses! Side note: I have a round face but it didn't look bad on me surprisingly!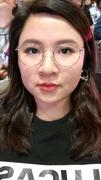 So happy with my new glasses. The elevated fit is perfect for me and my Chinese nose. I did the try five pairs for five days thing and after lots and lots of deliberation, I got the black Rigel style. Everything went over smoothly and their customer service was very helpful!